ABOUT PERMANENT PRESS
Back in 1940, if a company wanted to print a book of matches, a poster or playbill, or run a full-color advertisement in a major publication, they needed to use the services of a qualified printer and lithographer.
The job of the lithographer would be to take the original artwork, mechanical layouts and photographs and convert them so they could be reproduced in any number of offset printing processes. Once their work was completed, it was up to the printer to select the appropriate ink and stock to run the job.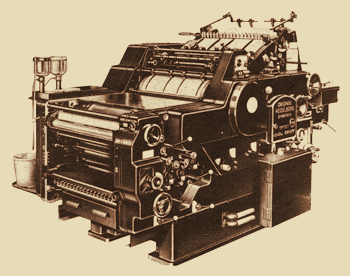 While these skilled laborers were working with the state-of-the-art equipment in 1940, the state-of-the-art was far less sophisticated than we are used to in present day. Even in the most competent hands, printing and lithography equipment lacked precision and often times created less than desireable results.
As time went on and printing processes and equipment improved, we're now able to reproduce printed items that look exactly as we intend them to. While this we delight in as the miracle of technology, we have also lost the charm of printing's earlier years.
Gone are the days of plate offset, over-inking, mis-registration, and a host of other resulting conditions sure to cause printers hair to prematurely fall out. Many times these artifacts were presented to designers as happy accidents only realized after the job was run.
That is until now . . . .
After the explosive growth of the Machine Wash Image Filters, we spent some time looking for the next big thing in the design world and found the tactile aesthetic was getting more sophisticated.
Realizing that printing technology has left printed work sterile and without the texture, soul, or the spirit of vintage offset printing, we felt it was important to re-introduce them to the modern designers toolbox and joined forces with our friend and amazingly talented developer Maxim at Alpha Plug-ins to make our dream a reality and we're pleased to finally share the result of that with you!

MAXIM VICTOROVICH CHERNOUSOV
Imaging Application Plug-in Developer
Maxim is a 1996 Graduate from Tomsk State University (Russia), receiving his M.D. in Applied Mathematics and Cybernetics. He went on to earn his Ph.D. in Mathematics and Computer Science in 1999.
In 1998 Maxi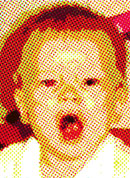 m established Panopticum, LLC which specialized in the production of special effect plug-ins and filters for video and picture processing. From its inception through 2003, he created more that 50 commercial products for sale including plug-ins for Adobe Photoshop, Adobe After Effects and Adobe Premiere. In total during this period, he created more than 1.7 million lines of source code!
From 2004 through 2006, he worked for Samsung Electronics in South Korea focused on producing multimedia components for cutting-edge smart phones before returning to his homeland of Russia.
In 2007, Maxim established Alpha Plug-ins, LLC a new company dedicated to his favorite business of inventing high-end special effect and custom imaging tools for graphic and video designers. Maxim makes this clear by stating, "While this work is supposedly very creative and interesting, the real challenge for me is testing my skills and mastery to make it work."
In 2008, Maxim teamed up with Mister Retro to create the Permanent Press Image Filter which was released in August of that year to industry acclaim. Based on the success of that working relationship the two forces joined again to re-concept and develop the already sucessful Machine Wash product line into Machine Wash Deluxe which was released at the end of 2009.