MACHINE WASH DELUXE
Q31731
INTRODUCING MACHINE WASH DELUXE 2.0
We started from scratch and rebuilt the plug-in from the ground up expanding and enhancing it every step of the way to create the most realistic and amazing effects we could imagine!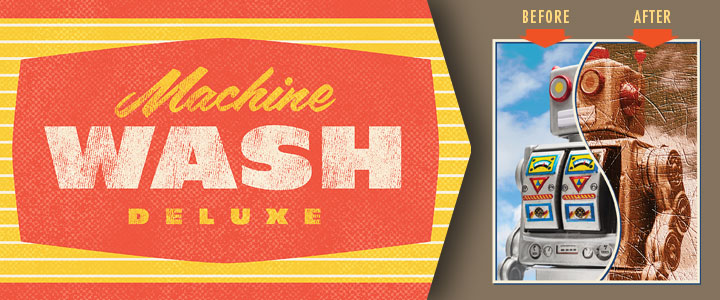 MOST REQUESTED NEW FEATURES
For years customers have been suggesting new features and ideas to improve our plug-in and we listened!
It's Fully Scaleable! - Say goodbye to tiny previews, now the Machine Wash Deluxe preview window can be any size you want to see your entire image as you work with it!

Redesigned User Interface - We decided at the very beginning that we wanted the next version of Machine Wash Deluxe to be easy to understand and simple to use. We literally hovered over the drawing board for months refining each element until it was perfect!

Now Supports Adobe Lightroom, Apple Aperture and iPhoto - Not only can Machine Wash Deluxe be used in Adobe Photoshop CS2-CS6, but has been expanded to work directly via Adobe Lightroom, Apple Aperture and iPhoto host imaging applications!

New FREE Textures - We couldn't just expand Machine Wash Deluxe without offering up some new FREE Textures! We've added FIVE new FREE Textures bringing the total to TEN FREE TEXTURES!

1,000s of NEW Presets - Machine Wash Deluxe 2.0 comes with OVER 500 Basic Presets, 1,100 Surface Presets, 260 Color Presets and 1,500 Background Presets to get you started!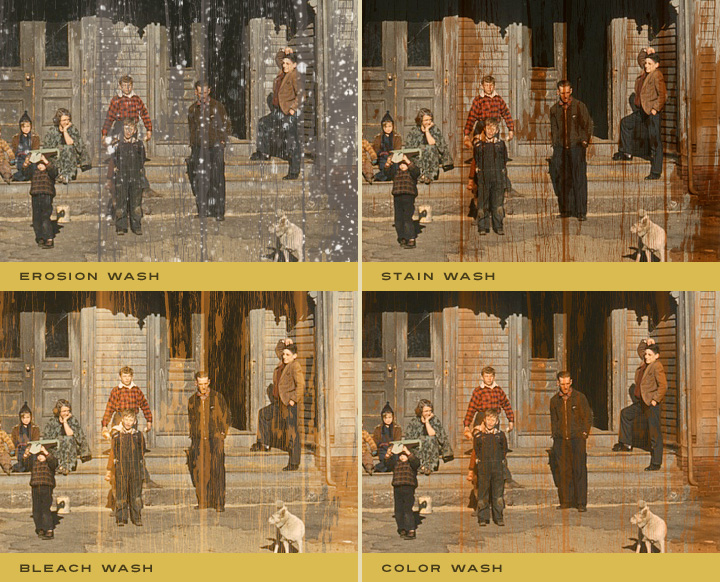 NEW PLUG-IN FEATURES
While most people know our plug-in for it's amazing Wash effects, you'll be amazed when you see our brand new Surface and Background effects!
Introducing Wash Type - Previously you could only erode a Texture Effect from your image, but now we've introduced three additional NEW Wash Types including Erosion, Stain, Bleach and Color .

New Color Tone Picker - With over 260 color presets, organized and arranged by color type and style, now you have complete control over your Surface and Background color tones!

Surface Tone Controls - Any convincing effect should match its surroundings and we've introduced new Hue, Saturation, Brightness and Contrast controls you can apply to your image.

New Texture Effect Picker - It's now faster and easier to find and preview the perfect texture in real-time on your images directly in the Preview window without wading through every texture effect. You can also filter the effects by style and set name.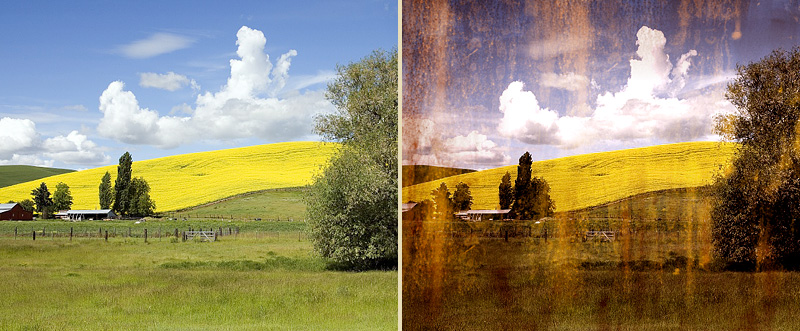 GENERAL PLUG-IN IMPROVEMENTS
Not only have we introduced plenty of new features but we made some existing features better than ever!
Enhanced Background Color

- No more unnatural looking background colors, we've added an Enhanced option to display a full tonal range of colors!



Improved Texture Effects on Larger Images - We completely replaced the plug-in rendering engine to create even higher quality Texture Effect on your images even faster than before!

Wash Coverage Type - Now you can choose a Hard or Soft edged Coverage to give your Wash even more variety and character!

Shortcuts! - Machine Wash Deluxe now allows you to use Preview window keyboard shortcuts when you want to change your zoom ratio on-the-fly. Also, quickly reset each tabbed section you're working in when you want to start fresh without changing your other settings!