LIGHT LEAKER GUI INTERFACE
Light Leaker features a GUI interface to create and fine-tune the plug-in effects. This page provides a brief overview of the basic user interface elements. For a more detailed look at the entire GUI interface, Click Here to look through the product manual.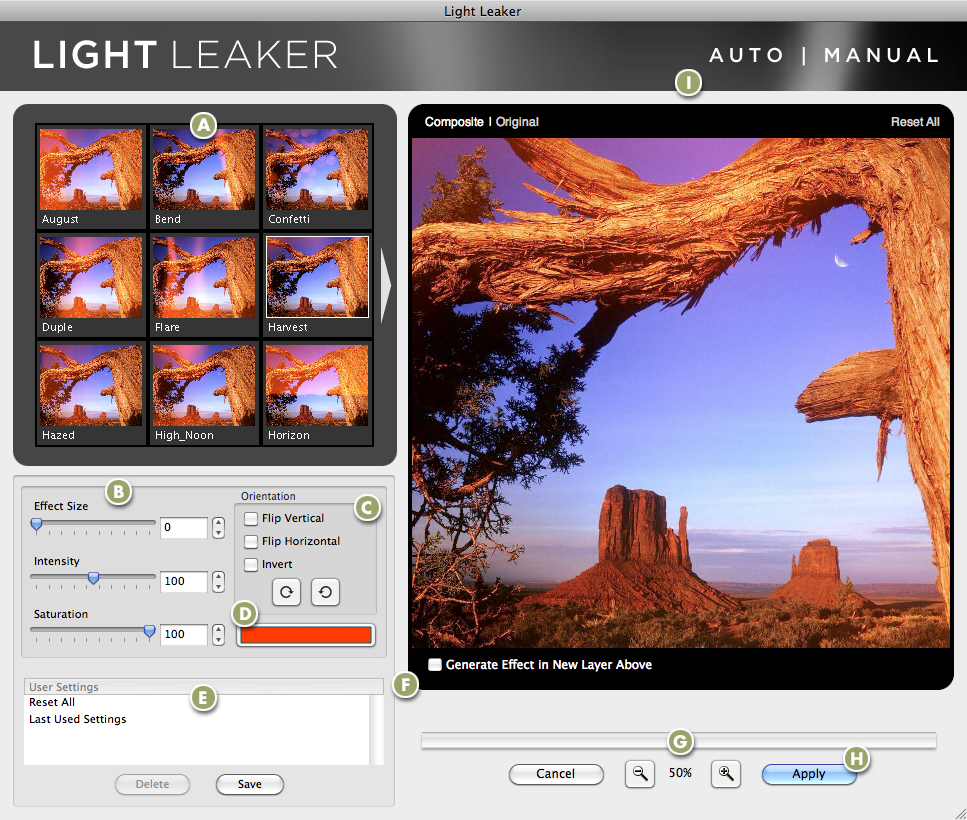 A: LIGHT LEAK SELECTOR
Quickly select and preview the light leak effect you'd like to apply to your image in realtime in the plug-in preview window. Click the arrows to navigate through each section of light leak effects.
B: LIGHT LEAKER SETTINGS
Adjust the scale, intensity and saturation of the light leak effect on your image with these slider controls or use the text box to the right of each slider for more accurate settings.
C: ORIENTATION SETTINGS
Not only can you rotate the light leak effect in 90 degree increments, but you can flip it both vertically and horizontally as well as invert the light leak for double the effects!
D: SATURATION SETTINGS
Use the Saturation control to increase or decrease the color of the light leak or change its color by clicking the swatch to the right to launch the color picker and preview each color in realtime.
E: USER SETTINGS
The User Settings dialog allows you to create and save or apply previously used settings to the image you're working with.
F: AUTOMATION CONTROLS
Generate the light leak effects in a new layer leaving your original untouched. Layer features are only supported in Adobe Photoshop and compatibles that support layer functions.
G: PREVIEW WINDOW
As you work with the filter controls, you can preview the effect on your image here. As you expand the plug-in window, the preview windows expands to fill the space with a larger preview. A status bar below lets you know the plug-in is working and how long until the effect is fully rendered.
H: ZOOM & APPLY
Click the magnifying glass icons to Zoom in or Zoom out respective to its icon and view the magnification level shown. Click the OK button to apply the effect to your image or click the Cancel button to close the plug-in without applying the effect.
I: RANDOM EFFECT GENERATOR
Click the Auto button to randomly load and apply a variety of effects to your image with stunning results.