ABOUT THE SNAPPY HOUR VECTOR ART COLLECTIONS
Mix together 1 part Jim Flora, 1 part Jay Ward, 1 part Jethro Bodine, 2 parts Trader Vic, 1 1/2 parts Elvis (the early years), 1 part Frankenstein, and 3 parts Maynard G. Krebs, shake vigorously and strain gently over the sounds of vibraphone exotica, garnish with a little Sinatra, a rare marbled porterhouse, and a dangerously dirty gin martini, and you'll find yourself staring down the loaded double-barrel of a Derek shotgun ready to blow your mind!
Since the revival of 1950s modernism and 1960s mod culture in the last decade, very few artists have recaptured the aesthetic, the texture, and the spiritual essence of the new golden age of the hipster like the work of Derek Yaniger. HIs artwork has been seen the world over and his ever growing league of fans continue to celebrate this low-brow art sensation.
As you thumb through the images of these striking collections both in volume and quality, you will catch yourself smiling and relating on a very personal level with the characters and situations in each illustration. Derek celebrates the themes of innocence, indulgence, humanity, and joy in his work but these words also come just as close to defining Derek the person and his view of the world . . . Wildsville Man! Wildsville!
DEREK YANIGER
Illustrator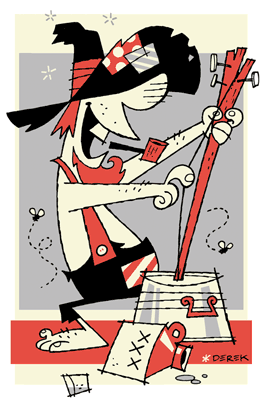 HOWDY! Derek Yaniger is a toothless hillbilly. Born in the backwoods of Arkansas, he was raised on little more than pork rinds and corn squeezins. Derek still resides in the south, in Atlanta, Georgia.
These days, when he's not runnin' shine with his pappy, he's paintin' purty pictures for big bucks. Over the past 18 years he's worked for such high-falootin' clients as Marvel Comics and Cartoon Network. Nowadays, Derek's illustration style, reminiscent of cocktail napkin art of the 50's, can be seen in such magazines as Atomic, Barracuda and Car Kulture Deluxe.
Hard to believe, but Derek Yaniger has sold more illustrations to more satisfied clients than Elvis and the Beatles...COMBINED!!
Interested in having Derek do some amazing retro illustrations for you? Click Here to submit a custom illustration request for your project! Wanna see more? Check out more of Derek's amazing illustration work here!