Let's Learn About Spot Wash : Halftone
Welcome
Welcome to Spot Wash : Halftone! Now you can create professional quality halftone textured weathering, surface and tactile effects on any image in Adobe Photoshop and compatibles. This manual explains how to install and get the most out of your new software and provides an overview of all Spot Wash : Halftone features.
Introduction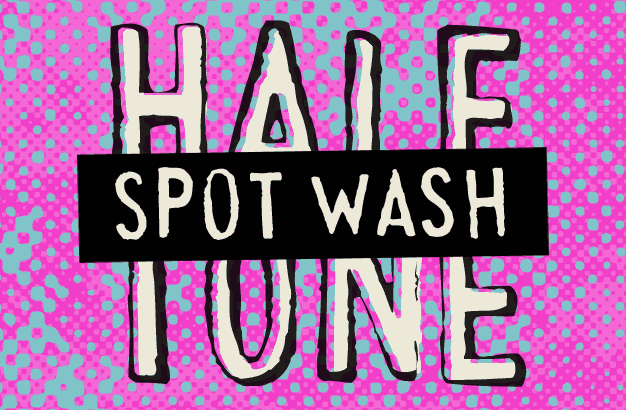 Our Machine Wash Deluxe plug-in was originally created to give a dimensional tactile look popular in the apparel industry by eroding textures from layered graphical designs. It was an instant hit.
While our customers always appreciated the wide variety of textures and options Machine Wash Deluxe allowed, we approached Spot Wash : Halftone with a more singular focus. We wanted to take the best aspects of Machine Wash Deluxe and created a more streamlined plug-in focused solely on creating halftone patterned wash effects.
To take that further, we decided right from the start not to create fixed sized halftone patterns, but instead give you the ability to actually change the size of the halftone dot pattern to your desire!
Not only can you change the shape and orientation of the halftone wash effect, but we knew you'd want control over how light or dark the pattern applies so we made it incredibly easy to adjust the halftone tint lighter or darker to suit your tastes! Quite simply it's the most powerful and adjustable halftone wash effect filter on the planet!
Let's Get Started!
Spot Wash : Halftone has so many amazing effects, we recommend spending a few minutes with this manual before you get started to make the most of this plug-in. Our manual will give you all the tools you need to understand how Spot Wash : Halftone works, so let's get started!
If you haven't yet installed and activated Spot Wash : Halftone, click here!
If you've already installed Spot Wash : Halftone and are ready to get going, click here to get familiar with the User Interface.